Shipping Fever
Calves with drooping head or ears, a cough and nasal discharge and refusal to eat or drink—these are just some of the signs to watch for as you wean calves and receive stocker cattle this fall.
These symptoms and others could indicate that bovine respiratory disease (BRD), also referred to as shipping fever, has infected a single animal or your entire herd.

BRD can be a costly proposition for cattle producers—not only from the perspective of the dollars spent on treatment, but also from its effect on the performance of cattle. The disease often results in lower average daily gains and reduced feed efficiency.
Symptom checklist. Clinical symptoms usually develop within 14 days after weaning, according to information from the University of Minnesota College of Veterinary Medicine.

Early signs include depression, anorexia and dull eyes. When these symptoms occur, sort the cattle and check for fever. Temperatures over 104°F can indicate the onset of BRD.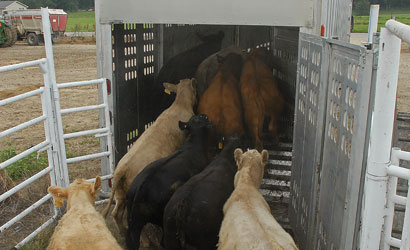 Later symptoms include rapid or labored breathing, droopy ears, coughing, diarrhea, staggering, regular nasal discharge and sudden death.

Producers closely monitor calves twice daily for the first few weeks after weaning and receiving. "The onset of BRD can be rapid, but it most often appears with early clinical signs. Left untreated, calves with severe BRD will die from asphyxiation," according to the University of Minnesota recommendations.
Treatment. As soon an animal shows symptoms, remove it from the rest of the herd and begin antibiotic treatment. Monitor the animal closely to see if it responds to treatment.

A second or even third treatment may become necessary. "A general rule of thumb is to follow a three-treatment protocol," says Lee Bob Harper, managing veterinarian for Pfizer Animal Health.
 
After the third treatment, you are just wasting dollars and not improving the life of the animal. In this situation, consider realizing (railing) the calf if the appropriate drug withdrawal time has lapsed, or euthanasia in cases where it is warranted from a welfare perspective.

According to one study, animals that require two or more treatments for BRD return $184 per head less than animals that require only one treatment, demonstrating the importance of managing properly to improve the first-treatment success rate. 

In some instances, your veterinarian may recommend metaphylaxis, or mass medication of a group of cattle to eliminate or minimize an expected outbreak of the disease. Research shows that using metaphylactic anti-microbials reduces BRD-related death losses and sickness rates compared to cattle that receive no treatment. Your veterinarian can determine if this course of action is warranted, depending on the source of your cattle.

Cattle from a known source and background that have been preconditioned may not require mass treatment. However, cattle from an unknown source and background may require a metaphylaxis protocol, Harper says.

This practice should be used in addition to a complete health program including vaccinations—not in place of vaccinations.

The goal is to reduce the incidence of acute-onset BRD in highly stressed and newly arrived calves.

There are a number of injection and in-feed options in delivery systems for antimicrobials. Talk to your vet about the best option, given your management style and the risk level of the cattle you purchase.

Keeping track. A simple notepad is all that's needed to record critical information that will serve you well down the road. Harper recommends at a minimum that you note the animal's identification information, date of treatment, antibiotic used, approximate weight of the animal and dosage given.

These records can be used to determine the appropriate withdrawal time prior to slaughter, Harper says. "Also, they can help your veterinarian determine the efficacy of a product. By looking at the records, you can make a call as to which treatments are working and which are not," he adds.
When to call the vet. Anyone running stockers or backgrounding should consider bringing a veterinarian in on a consulting basis—either weekly, monthly or quarterly—to help plan the best course of action, whether it's treatment or vaccinating the calves.

"It's better to have this set up well ahead of receiving so the veterinarian can look at the animal health history of an operation and determine the protocol to follow," Harper says.

In addition, your veterinarian serves as the watchdog for judicious use of antibiotics. With all of the controversy surrounding antibiotic use in animal agriculture, it's wise to make sure that you're not treating animals unnecessarily. Your vet can also help you maintain compliance with the medication's appropriate withdrawal time as the animal recovers and goes on to slaughter. BT
 
---
 

BRD: A COMPLEX DISEASE
 

There are several types of infectious agents behind BRD and many can be prevented with vaccinations, according to University of Minnesota Extension. The most common include: bovine viral diarrhea, infectious bovine rhinotracheitis, bovine respiratory syncytial virus and Parainfluenza virus type 3. Bacteria found in the lungs of calves with BRD include Mannheimia haemolytica, Pasteurella multocida, Haemophilus somnus and Mycoplasma bovis.

Management to reduce BRD:
Develop a receiving protocol with your veterinarian.
Purchase source-verified cattle.
Vaccinate prior to weaning, followed by booster vaccinations at weaning.
Get calves to eat from a feedbunk prior to shipment.
Reduce stress at shipping and handling.
Develop a good receiving nutrition program.
Avoid commingling cattle from different sources.
Check newly weaned and newly received animals on a regular basis.
Isolate and treat sick animals as soon as you see symptoms.