Choice Beef Reaches New Heights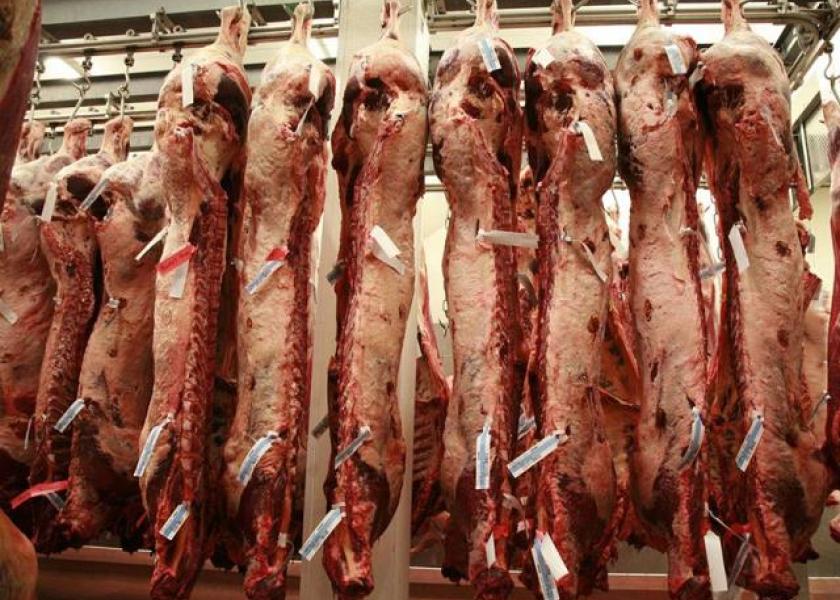 Longer days on feed lead to heavier carcass weights and quality
Improved genetics, management and attention to detail are paying dividends for U.S. cattle producers. That's evident in the significant improvement to quality grades of cattle offered for harvest. In January, USDA's Agricultural Marketing Service reported the percentage of cattle grading Prime and Choice for the week ending Jan. 7, was a whisker shy of 79%, the highest ever.

Additionally, the Choice-Select spread is consistently higher, says Lance Zimmerman, CattleFax analyst. 

"The Choice-Select spread has been relatively consistent in the $8 to $9 per cwt range," he says. "We see steeper discounts for an animal that can't grade Choice, and the Prime versus no roll spread is $420 per animal."

The improvement in the percentage of carcasses grading Choice has evolved in the past decade, says Paul Dykstra, beef cattle specialist with Certified Angus Beef LLC. "The 2006 average of 51.7% Choice remarkably improved to a 2015 average of 69.1%."

Along with gains in the Choice category, the percentage of Prime carcasses, locked in the 2% to 3.5% range for years, jumped to 4.2% in 2014 and 5.1% in 2015. "Today's U.S. cattle herd is producing the largest amount of high-quality beef ever," he notes. 

A shortage of high-quality beef was prevalent a decade ago, with the share of Choice carcasses often dropping below 50%. "That led to market incentives, fueling the turnaround in grade. The 2015 average of 69.1% Choice was a 17.3-percentage-point improvement since then," Dykstra says.

Along with the increase in Choice grades, there's been a remarkable increase in carcasses grading Prime. By November 2016, the percentage of Prime in the slaughter mix was 6.7%, on top of 70.8% Choice.

That's a "dramatic" improvement in quality grades, Zimmerman says, and those grades are "influenced by a lot of moving pieces."
Genetic improvements and other factors also contributed to the change. "We've also increased days on feed and more cattle are being managed on an individual basis by feedyards. Other factors include better use of dry and wet distillers grains, which is a very palatable feed, and better health management of cattle."

Feedyards were encouraged to increase days on feed by the drought-induced markets post-2012. The price of corn declined 35% during the summer of 2013, lowering the cost of gain for feedyards. Subsequently, the price of fed cattle increased in 2014 to a high of $171 per cwt. Feeder cattle prices also increased, raising costs for feedyards and encouraging them to add days to cattle already in the yards, rather than purchasing replacements.

"As a result, feedlots had incentive from late 2014 through early 2016 to feed cattle longer," Dykstra says. More days on feed results in heavier carcass weights, research shows, and both help increase marbling and quality grades. "This substantiates the industry trend that indicates increasing carcass weights and days on feed factor into the improved carcass quality grade levels in the past decade."

While market conditions helped boost overall quality grades, there's ample evidence improved genetics made the leap possible. Price incentives through grid marketing have encouraged producers in every sector to incorporate "marbling selection in their breeding plans," Dykstra says.

"Consequently, positive selection pressure for marbling has led to significant marbling advancements in the Angus breed and others," he adds.

American Angus Association data indicate the average marbling EPD for Angus cattle has quadrupled since 1995. Marbling progress among other popular beef breeds is also evident during the past decade.