Cattle First Documentary Highlights Commitment to Cattle Health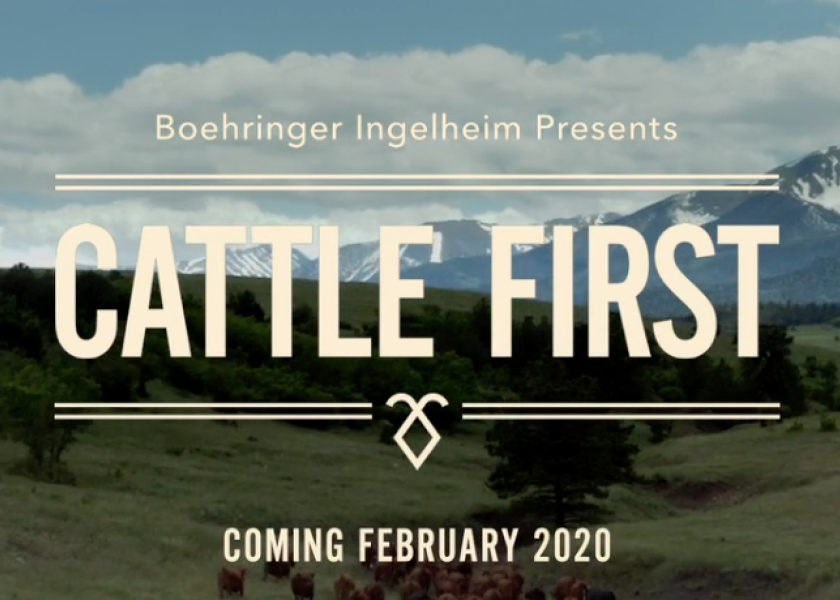 For Will Johnson, a self-effacing cow-calf producer from the eastern and central plains of Colorado, it's a bit disconcerting to see himself and his family on the big screen. When I ask him if it's weird to see himself on film, he ducks his head and smiles a little. 
"Yeah," he admits. "But the goal of Boehringer Ingelheim was to showcase how producers in agriculture do put animals first and counter the narrative that's being seen and consumed by the mainstream beef consumers," Johnson says. 
Boehringer Ingelheim premiered the new "Cattle First" documentary at the 2020 Cattle Industry Convention in San Antonio. The film features the Johnsons, a six-generation ranching family that owns Flying Diamond Cattle ranch. The Johnsons are raising cattle using techniques that support efficient breeding and animal healthcare in much the same way as their great-great-grandparents, who worked the land in the early 1900s. 
"We've let the narrative, the storylines be told by other people and it's time that we be proactive—not combating negative stories, but instead getting out in front of it and starting to write the narrative ourselves," Johnson says. "I think that is done wonderfully on this project that Boehringer put together. And I commend them for taking that proactive approach and helping the industry out."
One of the narratives Johnson says he's eager to dispel is the myth that cattle producers don't want consumers to know how their beef is produced. 
"We as an industry are proud of how we're doing things and we want transparency," Johnson says. "Maybe it's a reflection of the ranching ethos or attitude that we're quiet, reserved people and we didn't know people wanted to know what's going on. But we're actually very proud of how we do things." 
Boehringer Ingelheim launched the Cattle First initiative a couple of years ago with the goals of highlighting prevention and promoting steps to keep cattle healthy through animal care that includes deworming and judicious use of antibiotics, says Scott King, DVM, director of cattle marketing at Boehringer Ingelheim. 
"If you'll put the health and wellbeing of the animal above everything else, things tend to work out for themselves," King says. "We really wanted to bring this thing to life, and we wanted to showcase the passion that our producers have for animal health and wellbeing." 
Watch the trailer for the movie here:
Watch the full film at CattleFirstMovie.com. 
Read more articles from #CattleCon20
NCBA Unveils Top Policy Priorities For 2020
NCBA Announces 2020 Beef Quality Assurance Award Winners
Perdue Touts Trade At Cattle Industry Convention and NCBA Trade Show