Market Highlights: Unprecedented Prices
The fed cattle and beef markets are seeing unprecedented prices, especially for this time in the year.
By: Andrew P. Griffith, University of Tennessee

FED CATTLE: Fed cattle traded $4 higher on a live basis. Prices on a live basis were $154 to $155 while dressed trade occurred between $243 and $245. The 5-area weighted average prices thru Thursday were $151.35 live, up $2.31 from last week and $242.36 dressed, up $5.42 from a week ago. A year ago prices were $120.82 live and $192.00 dressed. Similar to the rest of the cattle complex, fed cattle are trying to set all time record prices this week. The all-time record price was set the last week of March which is a time period prices are normally strong.

Prices are unprecedented for the time of year especially with the seasonal increase in the number of fed cattle. As slaughter seasonally increases, cattle prices generally decrease but that is not the case for 2014. The short supply of cattle relative to previous years has many packers willing to bid higher for cattle to hang on the rail. This has been to the benefit of the feeder that has been continually forced to pay more for the feeder cattle entering the pens. Margins in some cases are thin, but most are still in the black.


BEEF CUTOUT: At midday Friday, the Choice cutout was $246.07 up $1.06 from Thursday and up $5.26 from last Friday. The Select cutout was $237.51 down $0.05 from Thursday and up $4.23 from last Friday. The Choice Select spread was $8.56 compared to $7.53 a week ago. Record high prices were set this week for both Choice and Select beef.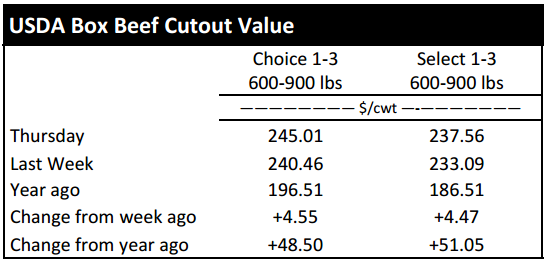 Beef prices generally struggle during the heat of the summer, but there is obviously enough support to push prices to all-time highs. Beef demand has remained strong domestically but internationally as well. The export market is providing some of the boost that is being witnessed, and it can only be made better since Hong Kong has relaxed their age limit restrictions on U.S. sourced beef. Hong Kong relaxed their age limit restrictions to accept beef from cattle up to 30 months of age instead of 20 months of age. The former restriction was established after the first confirmation of BSE in the United States. Easing these restrictions will allow for more exports to the Hong Kong market. The Hong Kong market is important because it provides a way of moving U.S. beef into China since there is no direct beef trade between the two countries.

The increase in beef cutout prices has kept packers above breakeven for the most part, but margins could quickly turn red if beef prices fall.
TENNESSEE AUCTIONS: On Tennessee auctions this week compared to a week ago steers and bulls were $1 to $4 higher. Heifers were $2 to $7 higher. Slaughter cows were $1 to $3 higher while bulls were $1 to $2 higher. Average receipts per sale were 716 head on 12 sales compared to 633 head on 12 sales last week and 545 head on 11 sales last year.


OUTLOOK: The cattle complex continues to look for the top, but prices continued their northward trek with little to no resistance. Cattle market prices are not encouraging cattle herd expansion. Nor are cattle market prices sending signs for cattle herd expansion. Instead, prices in the cattle complex are yelling from the roof tops and mountain tops that more cattle are desired in the pipeline.

The cattle industry has never had such a strong indication that the cattle herd needs to be expanded. There are still people in the cattle business asking where expansion will happen and who is going to expand because all they see is pastures continuing to be cropped and older cattlemen exiting the business. The answer to this question is simple. Expansion in the cattle industry will occur where there is economic incentive. There are few places in this country where the cattle business is not profitable given current prices. There are producers who already recognize the opportunity and more will recognize the opportunity in the near future. Once the opportunity is recognized, current cattlemen and new participants in the industry will work to increase cattle inventory and thus beef production. The economic indicators for cattle herd expansion are evident.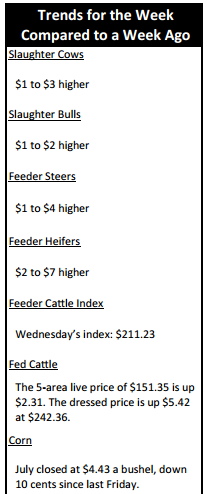 Current cattle prices have helped make cattle production competitive with other agricultural enterprises which will more than likely bring the conversion of pastureland to cropland to a halt. It may even result in bringing back some of that land that was converted the past seven or eight years. There is a tremendous cost to reestablish pasture, and the decision to do so is a long term decision. However, the outlook for cattle prices is promising for the next five or six years at a minimum and that may be a long enough period to consider reestablishing pastures. Additionally, profitability in the cow-calf sector could easily exceed five or six years which makes the opportunity appear even more attractive. Again, the key point is if there is an economic incentive then someone will step up to the plate and take on the risk given a certain level of expected returns.
TECHNICALLY SPEAKING: Based on Thursday's closing prices, August live cattle closed at $152.75. Support is at $151.36, then $149.13. Resistance is at $153.58, then $155.81. The RSI is 77.97. October live cattle closed at $155.53. Support is at $153.80, then $153.68. Resistance is at $155.60, then $155.61. The RSI is 78.85. December live cattle closed at $155.80. Support is at $154.55, then $154.40. Resistance is at $155.81 then $155.82. The RSI is 77.31. August feeders closed at $215.13. Support is at $213.58, then $211.25. Resistance is at $215.90, then $218.23. The RSI is 77.99. November feeders closed at $216.55. Support is at $214.93, then $213.55. Resistance is at $216.56 then $216.57. The RSI is 80.00. January feeders closed at $212.05. Support is at $209.08, then $208.40. Resistance is at $212.06 then $212.07. The RSI is 80.54. Friday's closing prices were as follows: Live/fed cattle –August $151.13 -1.63; October $154.35 -1.18; December $154.63 -1.18; Feeder cattle - August $214.33 -0.80; October $216.28 -0..80; November $216.20 -0.35; January $211.00 -1.05; July corn closed at $4.43 up $0.01 from Thursday.