Market Highlights: Feeders Slow Down
The fed cattle and boxed beef market slowed down this past week.
By: Andrew P. Griffith, University of Tennessee
FED CATTLE: Fed cattle traded $1 to $2 lower on a live basis compared to last week. Prices on a live basis were primarily from $161 to $162 while dressed trade was not well established. The 5-area weighted average prices thru Thursday were $158.70 live, down $0.52 from last week and $249.83 dressed, down $0.11 from a week ago. A year ago prices were $123.00 live and $194.28 dressed.
Fed cattle prices eased slightly this week, but prices remain strong heading into the fall marketing period. Futures contracts do not show any anticipated signs of weakness in the price of live cattle through the next eight months. However, it may be more difficult for live cattle prices to stagnate than to press forward or display signs of weakness given the volatility in the marketplace since the end of June.
The most recent surge in live cattle futures prices has resulted in most contract months setting new contract highs. Prices deteriorated slightly late in the week after contracts set their high. The new contract high appears to carry some resistance which means it may be difficult for traders to push prices higher.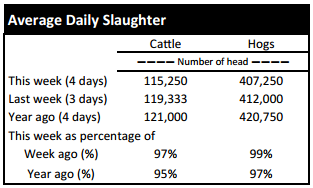 BEEF CUTOUT: At midday Friday, the Choice cutout was $250.53 down $1.01 from Thursday and up $1.97 from last Friday. The Select cutout was $235.53 down $0.82 from Thursday and down $1.77 from last Friday. The Choice Select spread was $15.00 compared to $11.26 a week ago.

The Choice cutout continues to remain strong as industry participants stare down the fall beef market. The fall beef market is not known for its resilience based on history. However, beef markets continue to defy history and cut new paths given the industry is in uncharted waters. Does it mean the beef market is setting a new norm? The answer is "not likely."




Beef and cattle markets have been responding to familiar information the past 18 months. What is less familiar is the magnitude of the information which includes reduced cattle inventory, monthly cattle on feed numbers below year ago levels for months on end, domestic consumer response to higher beef prices, international beef trade strong relative to beef price and the value of the dollar, and a number of other factors.

Folks in the beef and cattle markets were not sure how rising prices in the beef market would be received by the consumer which has led to increased uncertainty and volatility. However, to this point in the game it appears consumers continue to desire beef.
TENNESSEE AUCTIONS: On Tennessee auctions this week compared to a week ago steers and bulls were $3 to $9 higher. Heifers were $4 to $9 higher. Slaughter cows were steady to $1 lower while bulls were $1 to $3 higher. Average receipts per sale were 752 head on 11 sales compared to 590 head on 10 sales last week and 820 head on 10 sales last year.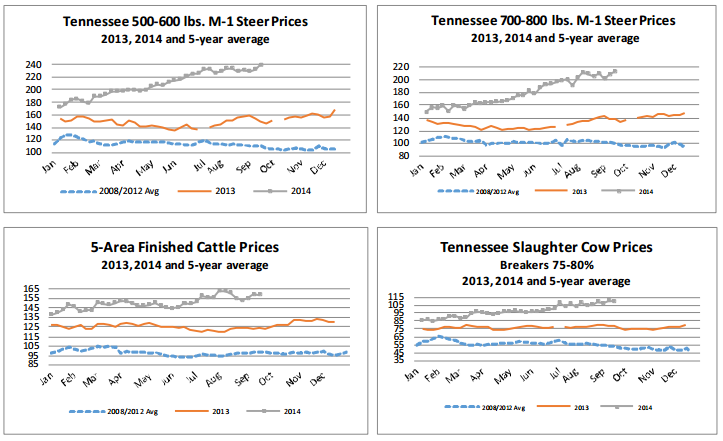 OUTLOOK: Financial risk continues to mount for margin operators in the beef cattle business as cash prices for stocker calves and feeder cattle pushed forward again this week. Stocker operators need to seriously consider hedging the future sale of cattle being purchased this fall.
Prices started escalating last fall and increased steadily until the end of June which resulted in purchases continually being sold on a higher market at a later date. The cash market and futures market have experienced minor peaks and troughs since the end of June with most contracts trading in a $10 to $12 range through the end of August.
The past couple of weeks, cash prices for stocker and feeder cattle have accelerated once again which is advantageous for cow-calf producers. However, the price increase has resulted in increased financial risk for stocker producers and feedlot managers as trades on the futures market may indicate prices falling back into the tighter trading range.
With increased financial risk due to the increased overall value of cattle, produces should be considering managing price risk to manage part of the financial risk over the next several months.
As was mentioned earlier, cow-calf producers are sitting rather handsomely. However, there are still some things producers should consider.
On weekly auction markets in Tennessee this week there were 959 Medium and Large Number 1 and 2 feeder bulls marketed while there were 1,370 Medium and Large Number 1 and 2 feeder steers. It is imperative producers understand the value left on the table when male stocker and feeder cattle are not castrated before marketing. For instance, steers weighing 525 pounds brought $76 more per head than the same weight bull calf. Similarly, steers weighing 575 pounds were valued $90 more than same weight bull calves.
Purposefully belaboring the point, steers weighing about 675 pounds brought $158 more than similar weight bull calves. This means a number of cattlemen in Tennessee left dollars on the table by failure to castrate. Producers should consider this management practice if it is not already in use because the cost of castration does not normally exceed the added value of the management practice.
TECHNICALLY SPEAKING: Based on Thursday's closing prices, October live cattle closed at $157.38. Support is at $156.41, then $153.63. Resistance is at $159.18, then $161.96. The RSI is 60.36. December live cattle closed at $159.70. Support is at $158.68, then $155.81. Resistance is at $161.56 then $164.43. The RSI is 62.59. February live cattle closed at $159.70. Support is at $159.50, then $159.45. Resistance is at $160.15, then $161.40. The RSI is 62.42. November feeders closed at $223.93. Support is at $223.25, then $222.93. Resistance is at $224.40 then $225.48. The RSI is 64.80. January feeders closed at $217.98. Support is at $217.50, then $216.55. Resistance is at $218.35 then $219.35. The RSI is 64.96. March feeders closed at $216.88. Support is at $216.50, then $216.23. Resistance is at $218.50, then $218.80. The RSI is 64.77. Friday's closing prices were as follows: Live/fed cattle – October $156.28 -1.10; December $159.25 -0.45; February $159.58 -0.13; Feeder cattle - October $225.93 0.33; November $223.93 0.00; January $217.78 0.20; March $217.28 0.40; September corn closed at $3.39 up $0.07 from Thursday.