Market Highlights: Beef Market Ending on a Bad Note
Most of 2014 saw record high prices, but the downward trend in the beef and cattle markets looks like it could carry into the New Year.​
By: Andrew P. Griffith, University of Tennessee
FED CATTLE: Fed cattle traded $5 to $6 lower on a live basis compared to a week ago. Prices were mainly $157 to $158 on a live basis while dressed trade was mainly $248 to $250. The 5-area weighted average prices thru Thursday were $157.51 live, down $5.60 from last week and $249.92 dressed, down $6.63 from a week ago. A year ago prices were $130.03 live and $207.43 dressed.

Cattle feeding margins on a cash to cash basis have dipped into the red as fed cattle prices have plummeted about $14 on a live basis and $16 on a dressed basis the past three weeks. There is not a lot of optimism in relation to prices rebounding toward the top end of the trading range. Thus, cattle being marketed in the near term are expected to result in losses for feedlots since most of those cattle were purchased at extremely high feeder cattle prices.

On the opposite side of the coin however, feedlot managers have a window of opportunity to purchase feeder cattle at much lower prices than two weeks earlier. This means a lower investment cost for purchased cattle relative to the past several months and thus a lower financial risk. Financial risk remains elevated compared to a year ago, but any reduction in risk may be welcome.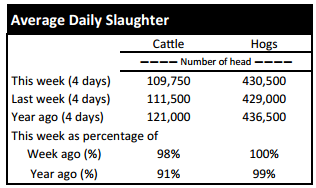 BEEF CUTOUT: At midday Friday, the Choice cutout was $242.52 up $0.11 from Thursday and down $3.11 from last Friday. The Select cutout was $230.56 down $0.57 from Thursday and down $4.37 from last Friday. The Choice Select spread was $11.97 compared to $10.70 a week ago.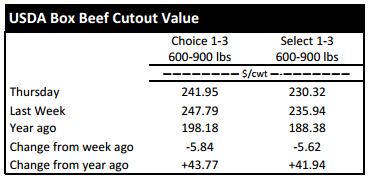 Beef cutout prices continue to erode heading into the winter months. The Choice and Select cutouts have fell about $15 each since the first of the month and support will be limited through the rest of the winter. There is some talk of the major packers only operating three days each of the next two weeks which could provide some support to cutout prices, but such support is limited and will be short lived.

Consumers are finding less expensive meat alternatives at the poultry and pork counter as chicken production is ramping up and the pork industry is attempting to increase the number of sows for breeding.

Another factor impeding all meat markets is the degradation of the Russian currency which has about half the buying power it had five or six months ago when compared to the US dollar. The devaluation of the Russian Ruble has resulted in a reduction in meat imports which will negatively impact global meat prices.
TENNESSEE AUCTIONS: On Tennessee auctions this week compared to a week ago steers and bulls were $9 to $17 lower. Heifers were $7 to $19 lower. Slaughter cows were steady to $1 lower while bulls were $1 to $3 higher. Average receipts per sale were 660 head on 12 sales compared to 817 head on 12 sales last week and 771 head on 7 sales last year.


OUTLOOK: It has been a dismal week for cattle sellers as prices came crashing down. All of the active feeder cattle futures contracts had five consecutive days of limit lower price moves which resulted in the Chicago Mercantile Exchange raising the limit moves on feeder cattle contracts from $3 per hundredweight to $4.50 per hundredweight.

The purpose of increasing the allowable limit move is to promote price discovery in the cattle markets. The cash market is a prime location for price discovery, and most found prices to be much lower this week for calves and feeder cattle. Most feeder cattle futures contract prices declined as much as $20 in an eight trading day period before rebounding on Thursday with increases of $1.50 to $3.50. Very similar results were present in the cash market based on the Tennessee weekly auction report as calves under 500 pounds lost $80 to $100 per head in total value from last week while 500 to 650 pound calves lost $50 to $85 per head compared to prices one week ago.

Similarly, yearling feeder cattle values declined as much as $160 per head this week compared to last week. The price decline witnessed this week for stocker and feeder cattle does not put cow-calf producers in a bind as prices remain elevated compared to a year ago and should still result in record profitability. However, overall value of calves and feeder cattle did decline between 4 and 10 percent in one week and this would be considered a tragedy if we thought of reducing yearly revenue by 10 percent. The result of declining prices is a mixed bag for margin operators as many stocker and feedlot operations are marketing cattle on a lower market which could easily mean losses for the particular group of cattle while they are also able to purchase cattle on a lower market which will lower future breakeven prices.

The December cattle on feed report for feedlots with a 1000 head or more capacity indicated cattle and calves on feed as of December 1, 2014 totaled 10.88 million head, up 1.4% from a year ago, which is within the pre-report estimate range. November placements in feedlots totaled 1.79 million head, down 4.0% from a year ago with the pre-report estimate average expecting placements down 3.9%. November marketing's totaled 1.48 million head down 11.1% from 2013 while the pre-report estimate expectation was down 10.1%. Placements on feed by weight: under 600 pounds down 5.2%, 600 to 699 pounds down 13.7%, and 700 pounds and over up 3.2%.
TECHNICALLY SPEAKING: Based on Thursday's closing prices, December live cattle closed at $158.70. Support is at $156.62, then $153.15. Resistance is at $160.10 then $163.57. The RSI is 32.90. February live cattle closed at $158.52. Support is at $156.14, then $152.42. Resistance is at $159.87, then $163.59. The RSI is 33.48. April live cattle closed at $158.20. Support is at $155.55, then $155.20. Resistance is at $158.60, then $161.10. The RSI is 33.25. January feeders closed at $217.07. Support is at $212.70, then $204.55. Resistance is at $220.85 then $229.00. The RSI is 25.86. March feeders closed at $213.77. Support is at $208.88, then $200.23. Resistance is at $217.53, then $226.18. The RSI is 24.79. April feeders closed at $214.18. Support is at $212.10, then $212.00. Resistance is at $215.10 then $218.10. The RSI is 26.18. Friday's closing prices were as follows: Live/fed cattle –December $160.75 2.05; February $160.10 1.58; April $159.70 1.50; Feeder cattle - January $220.00 2.93; March $218.03 4.25; April $217.98 3.80; May $218.58 3.63. March corn closed at $4.11 down $0.01 from Thursday.