Cattle Markets Hampered By Season's First Storm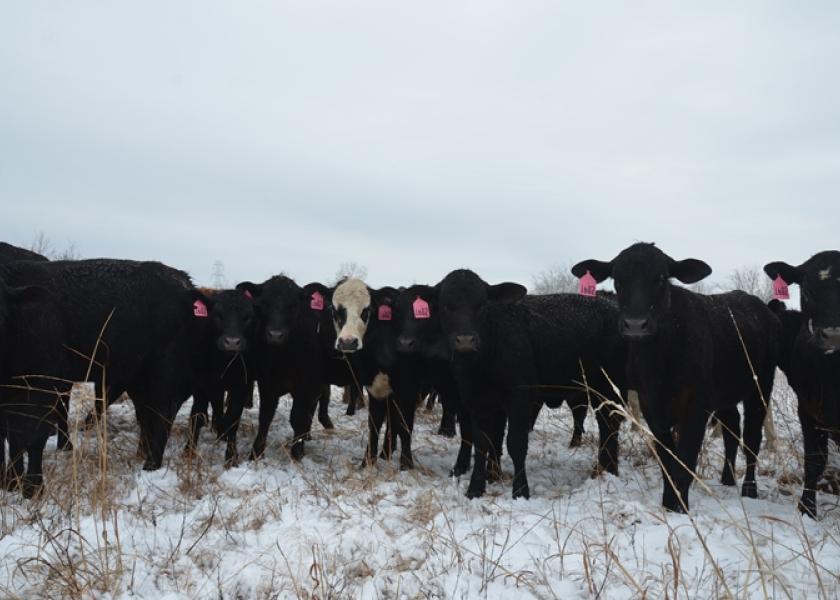 Wide regional variations in prices for fed cattle were found this week and the cash trade was slow to develop. Iowa saw the lowest prices at $101 to $103 live and $163 dressed. Nebraska prices averaged $103 to $104, with dressed prices at $160 to $162. Cattle in Texas and Kansas sold mainly at $106, steady with the previous week.
Cattle feeders also experienced the season's first winter storm, with feedyards and packing plants losing power for a time. High winds downed trees and sent cattle drifting across the country. Travel was impaired in many areas of the plains. Slaughter rates for the first four days of the week was well under the previous week.
CME cattle posted strong rallies this week with futures closing near weekly highs. December live cattle gained 32.5 cents on Friday to $108.30, extending this week's gain to $4.05. November feeders were up $1.675 Friday to $137.40, rallying $7.75 this week.
Weekly cattle slaughter was estimated at 638,000 compared to 658,912 head last year. Total year to date was 26.75 million head, 3.8% below last year.
Friday's Choice boxed beef cutout was $208.32 per cwt., $0.83 higher than last Friday. Select traded at $194.33 per cwt., $2.93 higher than last week.
Feeder steers and heifers sold uneven from $3 lower to $2 higher. AMS reported limited number of yearlings selling steady to $3 higher.
"Receipts were light in the calf and yearling producing area of the Southern Plains this week as a winter storm rolled through making transportation of livestock treacherous," AMS said. "The Southern Plains had areas of flooding, freezing rain and snow; sometimes all of them in a short amount of time."