Brazil's Tainted-Meat Probe Leaves World Hungry for Chicken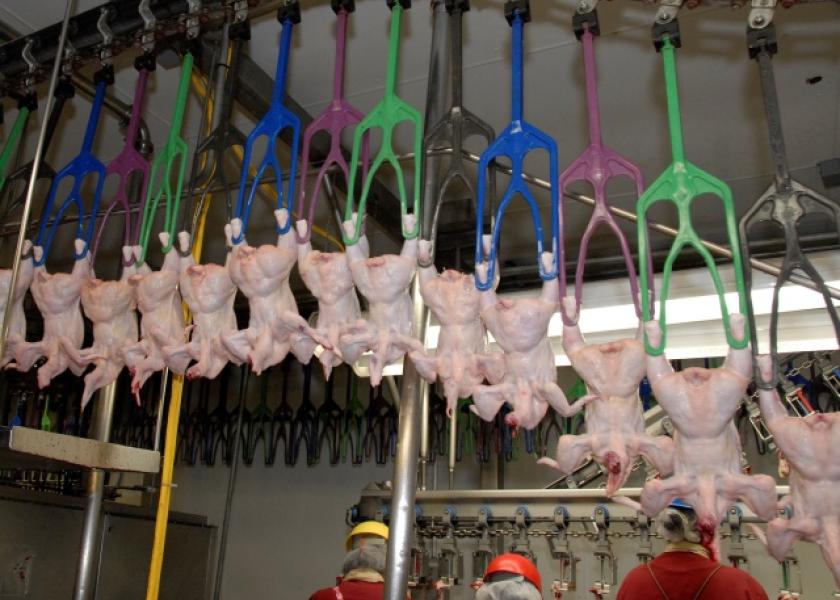 Where's the chicken? That's the question a number of the world's biggest poultry importers could find themselves asking after slapping bans on shipments from Brazil, the world's No. 1 supplier.
A food-safety probe against some of the biggest Brazilian meat companies has prompted countries from China to South Africa to Mexico to place restrictions on shipments from the South American nation. That may leave a major hole in the world chicken trade since Brazil accounts for about 40 percent of global exports.
What's worse, Brazil's meat scandal is coming at a time when avian influenza has surfaced in the U.S., the second-biggest exporter of broiler chicken-meat. With nations including South Korea placing limits on American imports, the world could be left hungry for chicken if competitors can't fill the void.
"It's hard to say which country could fully replace a giant as Brazil in the world chicken market with the U.S. affected by bird flu," Jose Vicente Ferraz, a director at Informa Economics Group-FNP in Brazil, said in a telephone interview from Sao Paulo. "I would venture to say there's no country able to do that at the moment."
Brazil was expected to increase its share of the global trade this year. Untouched by bird flu, demand for its products surged after outbreaks of the virus in Asia, Europe and the U.S. China was expected to be the leading growth market, the U.S. Department of Agriculture said in October. Instead, the tainted-meat scandal could mean damage to the country's image as a premier meat supplier, Brazil's Trade Minister Marcos Pereira said.
Weak Flesh
The so-called Weak Flesh probe launched by Brazilian police last week to investigate alleged bribing of federal inspection agents to approve sales and exports even when the meat was spoiled has embroiled food giants BRF SA and JBS SA, the world's largest meat producer. Shares of both companies, which denied the accusations, have fallen about 10 percent since the probe came out on March 17.
The investigation quickly triggered importing nations to set limits on supplies. China, which combined with Hong Kong is the biggest destination for Brazilian chicken, has suspended meat purchases from the South American country. Saudi Arabia, the No. 2 buyer, ordered new inspections of meat shipments, while the European Union and Japan have also set restrictions. Brazil's meat exports plunged to $74,000 on Tuesday, compared with the daily average of $63 million, according to trade ministry data, a drop of 99.9 percent.
"The government is trying to show importers that this is an isolated episode, which affects a few plants," Pereira said. "But, it's possible that Brazilian meat loses value in world trade. We will work to make it as small as possible."
In the U.S., several cases of bird flu have been reported this month including in Tennessee and Alabama, one of the largest chicken-producing states. The outbreak has prompted nations including Japan, the world's No. 1 broiler-meat importer, to place restrictions on shipments from some areas. Together, Brazil and the U.S. make up two-thirds of the global chicken trade. The USDA had forecast exports would reach a record 11.4 million metric tons in 2017, with shipments from Brazil projected to reach 4.4 million tons.
Competing producers are hoping to help fill the void. Argentinean chicken producer Cresta Roja expects Brazil's woes to help increase its shipments to export markets in Asia, Chief Executive Officer Santiago Perea said in a telephone interview. The boost could help the company reach its target of exporting 25 percent of production by June, up from 15 percent now, he said.
But, smaller exporters may have difficulty competing from a price and volume standpoint, according to Will Sawyer, an Atlanta-based vice president of animal protein at Rabobank International. Cresta Roja produces 260,000 chickens a day. By comparison, BRF slaughters 7 million chickens a day in Brazil. JBS has a processing capacity of 5.7 million chickens a day, according to a presentation on the company's website.
Reversing Restrictions
The huge supply gap could force importers to lift some of their restrictions on Brazil, said Ferraz of Informa. That's especially true for buyers where domestic production has dropped amid bird-flu infections, such as China, he said. South Korea has already lifted its restrictions on Brazil's chicken imports after clarifying that allegations of tainted meat don't affect the companies which export chicken to the Asian country. 
Some importers "may be forced to regionalize bans because their options are narrowing considerably" to assure supplies, Heather Jones, an analyst at Vertical Group in Richmond, Virginia, said in a telephone interview. Countries such as China that imposed bans on all chicken from Brazil and the U.S. may have to create a patchwork of smaller exporters, she said.
There could be a similar squeeze in the global beef market, where Brazil is also the biggest exporter. Production in Australia, another major supplier, has been constrained by drought and ranchers in the country are still working to rebuild herds, while other countries also may not have the sheer volumes of the South American nation.
"We're hopeful that some countries, particularly those without sufficient production domestically to feed their own people, will realize that their trade policies should be based on science and not politics," James H. Sumner, president of the Stone Mountain, Georgia-based USA Poultry & Egg Export Council, said in an email. "If not, there could be a lot of hungry people out there."